"Ah! But you are ours!" said a wonderful Montenegrin lady in Perast to me a few years ago when I told her I was from Macedonia. We were staying in her house for a week because I was doing a series of open water swims in the beautiful Bay of Kotor. That morning, before we set out on the boat, she had made the most delicious deep fried yeasted sort-of-doughnuts ("uštipci", but also known as "priganice" in Montenegro, "fritule" in Croatia or "miške" in Slovenia), which are made and eaten across the Balkans in countless ways. They are deep fried enriched dough balls, similar to doughnuts, but ones that can be eaten with sweet or savoury accompaniments. They are very popular for breakfast, or sometimes eaten as snacks. Some make them with yoghurt, some without yeast, some with baking powder and sparkling water.
I had told her that her priganice tasted just like my grandmother's, and when she found out I was from Macedonia she hugged me after uttering that phrase that has stuck with me since. So much is encapsulated in those words. It implies an inherent understanding, a shared history and love that transcended political boundaries. Belonging. We had them with her homemade wild sour cherry preserve, honey, and beautiful fresh Pljevaljski sir (a hard white sheep's or cow's milk cheese). Needless to say, the rest of the week, she made the most incredible breakfasts, intent on exceeding herself, just like my grandmother, my mother, and all the other Balkan women I know. "Ti si naša". You are ours. Let me feed you with love.
This recipe is the fastest way I know how to make them. It serves 2 to 4 people (depending on how hungry they are!).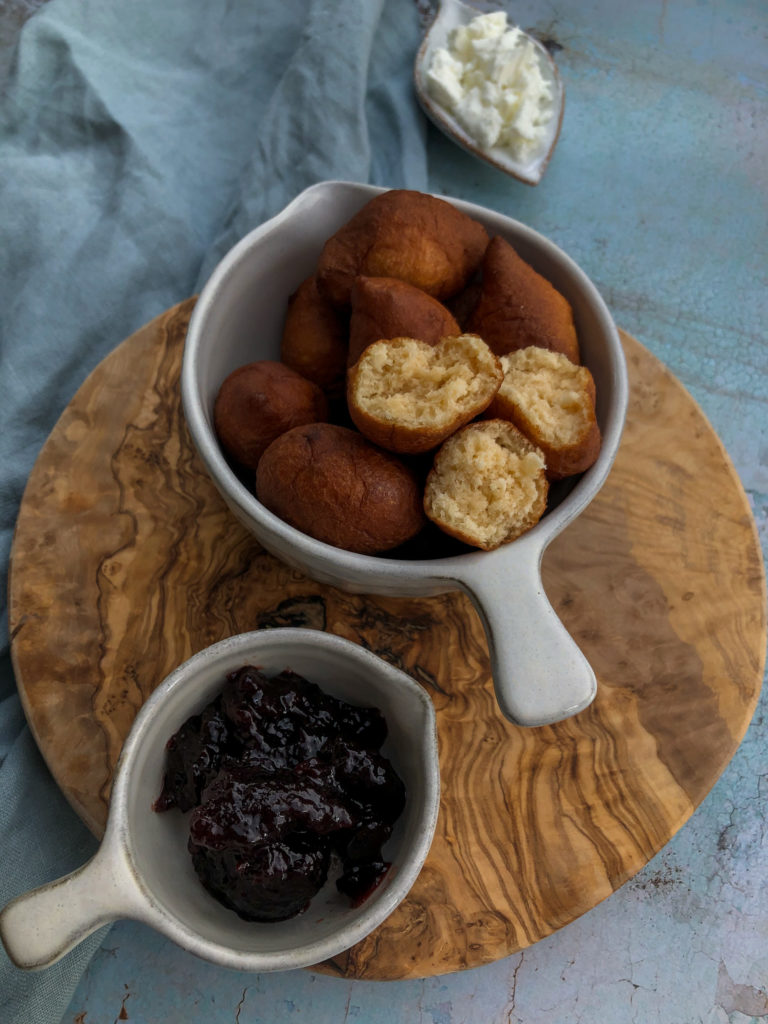 Print
Ingredients
5g dry (fast acting) yeast or 10g fresh yeast

1 tbsp caster sugar or honey

75ml lukewarm milk

175g plain flour

3g sea salt

1 medium egg, beaten

25 -50ml lukewarm water

Sunflower or rapeseed oil for deep frying
Print
Directions
In a small bowl, combine the yeast, sugar and milk and mix to dissolve the yeast. Leave to rest for at least 15 minutes or until the yeast bubbles.
Sift your flour and salt in a separate large bowl. Make a well in the middle and add the yeast mixture, egg and 25 ml of the water. Stir to combine with a wooden spoon or spatula to ensure there are no lumps. The consistency should be a thick batter (like raw choux pastry). If the batter is too thick and it is difficult to stir, add a little more water. Allow the mixture to rest for at least 30 minutes.
Add your oil to a deep frying pan and bring it up to temperature. At this point, you can either place the batter in a piping bag, snip the end and pipe the mixture into the oil (using scissors or a knife to cut the batter at regular intervals e.g. 2cm as it comes out of the piping bag), or using 2 spoons dipped in the frying oil, scoop out a little of the mixture and drop it in the oil. Fry until golden brown. If your oil overheats, remove from the heat and allow it to cool down a little otherwise the "ustipci" will brown too quickly but not cook through the middle. The piping bag technique gives you slightly more uniform shapes, but using spoons works beautifully too and the unique shapes are charming.
Serve with savoury or sweet accompaniments. They work beautifully with a variety of cheeses, jams, preserves and honey.